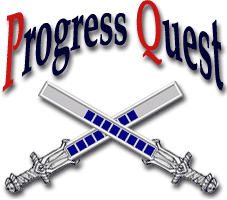 echo(progressus imprimis) ?>
Home · Info · FAQ · Play · Download · Realms · Accounts · News · Store · Forum · Links
Progress Quest Theme
Jayden Steffe has been a PQ fan since the earliest days, and the slow cooker of his warm heart has now produced a Progress Quest theme song.
Keep it looping in the background as you play (also in the background).
[July 14, 2017]
New Platform for PQ: Windows93
Progress Quest has been integrated into the excellent Windows93. It's a perfect fit, you'll have to agree.
[July 5, 2017]
I want to say how good your game is! It is very very very good! Progress Quest is simple geniality!
-Denis Kruglov
Home · Info · FAQ · Play · Download · Realms · Accounts · News · Store · Forum · Links
©2001-2010 grumdrig@progressquest.com