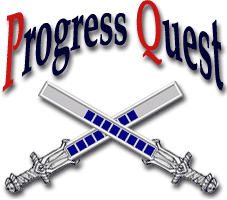 echo(progressus imprimis) ?>
Home · Info · FAQ · Play · Download · Realms · Accounts · News · Store · Forum · Links
Progress Quest Theme
Jayden Steffe has been a PQ fan since the earliest days, and the slow cooker of his warm heart has now produced a Progress Quest theme song.
Keep it looping in the background as you play (also in the background).
[July 14, 2017]
New Platform for PQ: Windows93
Progress Quest has been integrated into the excellent Windows93. It's a perfect fit, you'll have to agree.
[July 5, 2017]
"Ok, so its not as robust as EQ, but it beats AC and DAOC!"
The bottom line is, this game streamlines and combines all of the positive aspects of many MMORPGs into an easy-to-use interface. When played online, the people are very nice as well, hardly any griefers (try saying that about EQ!)! Just give it a try, its free, and take the time to learn the game, just like you did with other MMORPGs, and you'll see the superiority of this system.
Home · Info · FAQ · Play · Download · Realms · Accounts · News · Store · Forum · Links
©2001-2010 grumdrig@progressquest.com