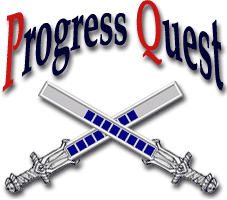 echo(progressus imprimis) ?>
Home · Info · FAQ · Play · Download · Realms · Accounts · News · Store · Forum · Links
Progress Quest Theme
Jayden Steffe has been a PQ fan since the earliest days, and the slow cooker of his warm heart has now produced a Progress Quest theme song.
Keep it looping in the background as you play (also in the background).
[July 14, 2017]
New Platform for PQ: Windows93
Progress Quest has been integrated into the excellent Windows93. It's a perfect fit, you'll have to agree.
[July 5, 2017]
"Abslutely awesome"
The only kind of person who doesn't like this game is the kind that will give their credit card or social security info to unknown people who call on the phone. In short...idiots!
Home · Info · FAQ · Play · Download · Realms · Accounts · News · Store · Forum · Links
©2001-2010 grumdrig@progressquest.com